Show Homes for Savvy Developers!
The experts at The Home Styling Company explain how savvy developers use cost effective Show Homes to sell properties quickly and for the highest possible price.
We've been busy working with a series of property development companies lately and the Show Homes and results have been spectacular. Canny developers realise that staging homes to sell not only encourages many more viewings but those viewings are converting to rapid sales at prices higher than expected – something that every vendor strives for.
Would you shop for an expensive outfit for a special occasion and then forget to wear shoes? Thought not.
Staging is the final piece of the development jigsaw. When a renovated or newly built property is ready for sale, why not showcase it beautifully to achieve the very best return on your investment?
Even better, why not follow the lead of experienced developers and factor in the cost of staging from the very beginning?
We guarantee staging will cost far less than you think and be worth every penny when the added value appears on your bottom line.
Selling more than one house?
Recently we staged one home for a developer with five similar properties for sale in Evesham. It wasn't necessary to stage all five properties; staging just one allowed buyers to really connect emotionally and see exactly how living there might look and feel. When the images were posted online, buyers were queuing up to view and all five homes sold quickly. The investment in staging one home triggered the sale of all five properties. The vendor was delighted and so were we.
Staging sets a home apart from many similar properties a potential buyer may have seen; it makes the difference between finding a home and just viewing a house.
It's never too late for Show Homes to make a difference.
We know buyers are harder to persuade during the winter months so act now to stage those unsold, empty properties fast. It's well documented that buyers make up their mind to buy a home as soon as they walk through the door so let us help you create that crucial first impression.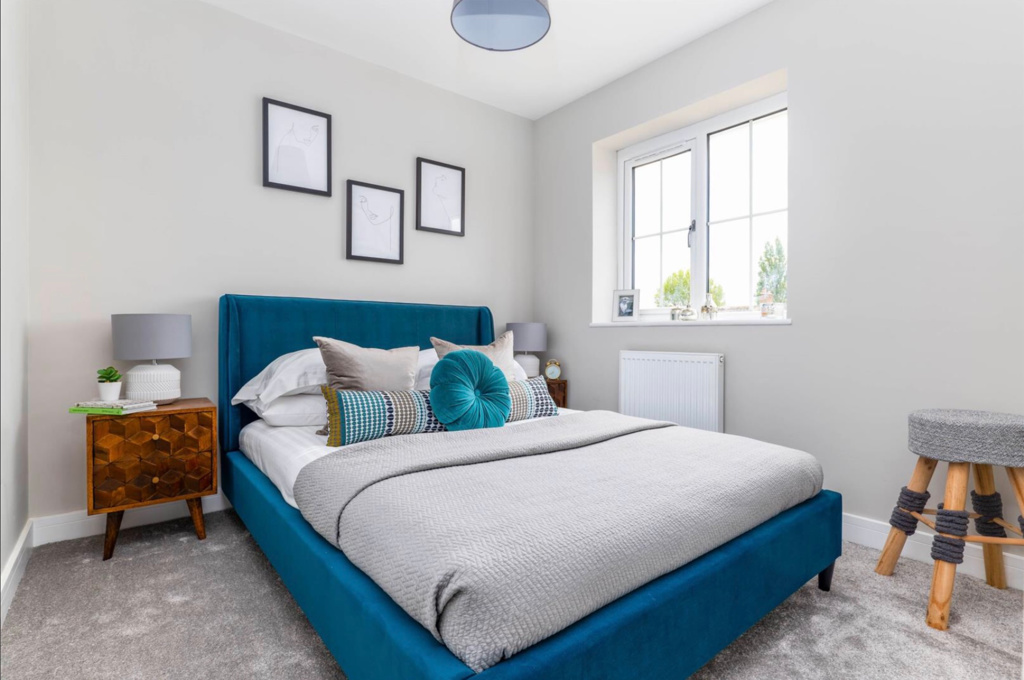 The Home Staging Report 2019 (Home Staging Association UK) report three key statistics from developers who took part in the research:
100% of developers saw staging increase the number of viewings.
100% of developers saw their staged properties sell faster than non-staged ones.
83% of developers said staging increased the offer price typically between 8 and 10% per property.
Affordable appeal
We offer cost effective Show Homes solutions to small to medium sized developers who may not have used a show home before. A fully dressed show-home can be delivered within two weeks from order to installation with no hassle or time commitment for the vendor whatsoever. We can scale up or down to make every size of empty house so much more appealing.
The Home Styling Company have won awards for our transformative skills and we style properties to sell – not just to look good. Never overdone or 'glitzy', we'll plan the interior and supply just the right tasteful furnishings to highlight the best features of the property and showcase your hard work. Our furnishings can be purchased or rented and are often obtained by buyers who have fallen in love with the looks we create.
Transparent Pricing of all our Show Homes.
Our price includes all design, delivery, installation, styling and uplift and will incorporate your brief, brand, target market, budget and timescale.
We are very happy to recommend and liaise with estate agents to develop a marketing package on your behalf, including the professional photography which can also be used to help market your future development projects.
For more of our services see - Services
Don't risk harming your overall profit margin through slow sales and a low perceived value of your product. We offer free, friendly and informal advice about your future plans and look forward to talking about how we can help.
To see more on our great results see our favourite blog - Once upon a time in Leicestershire – Property Styling Midlands
Denise and Stephen Cable