Property Staging
Transforming empty properties into desirable homes that sell higher and faster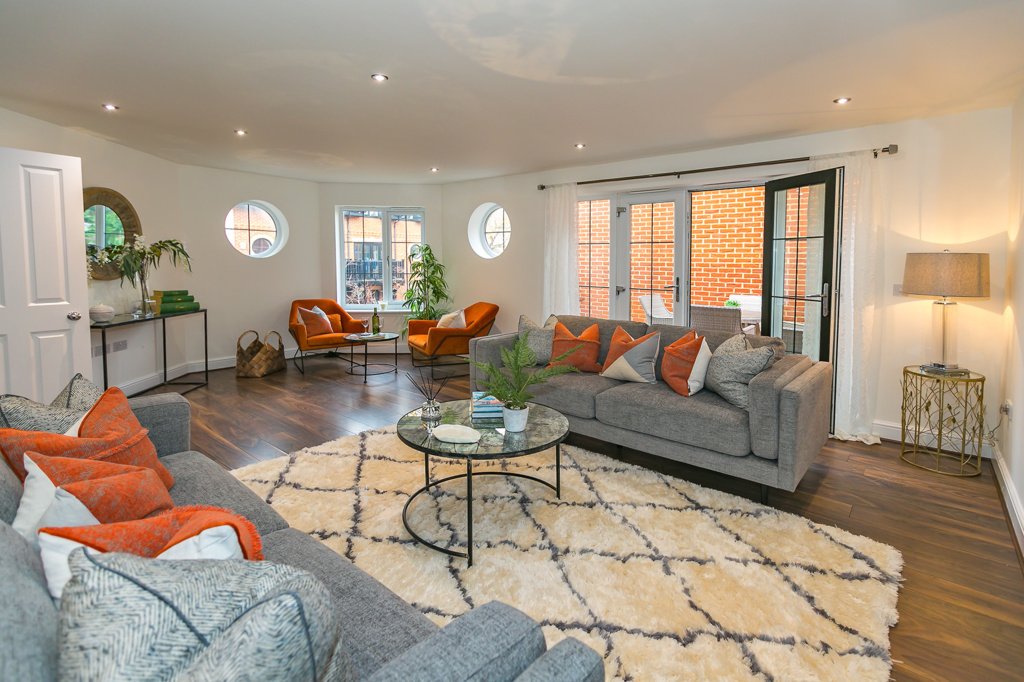 Ideal for those wishing to market and quickly sell a vacant property. Reasons may include:
A development or renovation.
An ex-rental property.
An oversees seller of a UK property.
An inherited property or  probate sale.
Using carefully chosen furnishings, we will stage your empty property, arrange specialist photography and supply striking, high quality marketing images to turn online browsers into buyers.
Choose between staging the entire property or consider our part staging service where typically just the kitchen, a living space, the main bedroom and a bathroom are staged. Part staging achieves the same impactful images of key rooms at a minimal cost.
Which parts of the country does The Home Styling Company cover?
Our teams cover all areas within The Midlands – broadly within a two hour drive of our Head Office in Leicestershire (LE16).
In addition to staging all rooms we also offer a part staging service which includes just the key rooms in a property - typically the kitchen, living room, main bedroom and family bathroom. This option can provide the essential images for a minimal outlay.
Because we are full time, professional home stagers, we are able to offer a fast turnaround with just 2 weeks' notice to install (subject to availability). The staging and installation process usually takes between 1 to 2 days on site to furnish and style, ready for your photography and launch.
What type of property can be staged?
Any kind of empty property can be staged to sell. As a starting point the property needs to be in a clean condition with a reasonable standard of decoration and flooring throughout. If you need assistance reaching this point, we can recommend trade professionals to address any repair or decoration issues before staging takes place.
What items does a staging package include?
We supply high quality furniture and accessories to fit all sizes of home. We have furnishings to suit every style of property from traditional, period and country homes to contemporary city apartments or new builds. Every item used in the staging of a property is included in the rental price. You can expect larger items like beds and sofas as well as art work, mirrors, rugs, lamps, bed linen, kitchen items, tableware, faux plants and flowers, window dressings, cushions, throws and all those carefully chosen accessories that make a house feel luxurious. Every item will be perfectly placed to ensure your sumptuous interiors are ready to entice viewers.
What does the installation fee include?
Everything. Our one-off fee includes a Home Staging package created especially for you. From the floorplan we create an original design based on your style of property, target market, guide price and location.
Following this will be the delivery and placement of all furnishings, making up of beds, hanging of artwork and styling of all rooms. On completion we'll arrange for a professional property shoot by a specialist lifestyle photographer to supply all the images required for your marketing launch. After your successful sale our team remove all of the items and leave the property sparking for its new owner.
For an accurate price it's best to contact us for an individual quote. As a guide, furniture rental prices start from £1,200 per month (minimum 3 month contract).  Prices exclude VAT. These guide prices would apply to part stage an average three bedroomed detached property. For a detailed quotation simply send us a copy of your floorplan, link to the property details or call us to chat through your requirements.
The process is simple. Send us a floor plan or online property link. We will give you a call to confirm your requirements and budget. If you decide to proceed, we will visit the property to complete a survey and create a staging plan. A 3 month rental contract will be created with an option to extend to 4 months and beyond if needed (not usually necessary). Delivery will be between 5 and 10 days from your order and installation will take between 1 and 2 days. We'll arrange an interior shoot with our professional photographer or photographs can be taken by your Estate Agent if you prefer. Once the property is sold, just give us a few days notice and we'll remove all the staging, leaving the property clean and tidy.
83% of agents said staging made it easier for a buyer to visualise a property as their future home.
Staged properties typically sell for 8 to 15% more and up to three times faster than non- staged properties
Staging will always cost you less than a price reduction if the property isn't selling
Step 1
Contact our friendly team for a no-obligation quote, if you have a floor plan handy then this will help a lot. We'll devise a home staging plan within your budget for approval. This will be matched to your property style and target market with the objective of selling higher and faster.
Step 2
Our team will install beautiful furniture, soft furnishings and accessories. These will maximise your property's best features, minimise any negatives and totally WOW your target buyers. The viewings will come flooding in!
Step 3
We will organise our own professional photography (or work with your chosen agent) to provide you with amazing high quality images (approximately 100). These will capture the lifestyle that your property can offer. At the end of the contract all furniture will be carefully removed, unless the new buyer would like to buy some of it.