'Must Know' Staging Tips from the Professionals.
Hi Everyone
Home Staging has become an absolute must for savvy sellers in today's market. Whether you decide to go DIY or hire a company like ours to help you, it's vital to make sure your home stands out from the crowd. Take a look at our 'Must Know' Staging Tips.
'Must Know' Staging Tips From The Professionals.
According to a recent report by The Home Staging Association UK & Ireland published in Estate Agent Today (2019), staged properties sell three times faster than those that have not AND for up to 10% more than the unstaged equivalent.
Worth making some effort with home staging? Most definitely.
Before we begin, it's important to clarify that Home Stagers are NOT interior designers. Whilst we have design skills aplenty, our role is in many ways the exact reverse of a designer. Designers are commissioned to ensure your home represents your particular personality and taste; what we do is the polar opposite.
Before selling, you'll need to neutralise and depersonalise each room in order to help as many different types of potential buyer imagine themselves living there. The aim is to make the space look its absolute best but without putting anyone off who may not share your taste.
Almost all viewings in person these days are generated by online searches. If you want to stop buyers in their tracks while searching on platforms like Rightmove, you'll need to post eye catching images of your home which stand out from all the hundreds of other homes for sale.
Follow our key rules and you'll be on your way to selling success and if you need a hand, you know where to find us.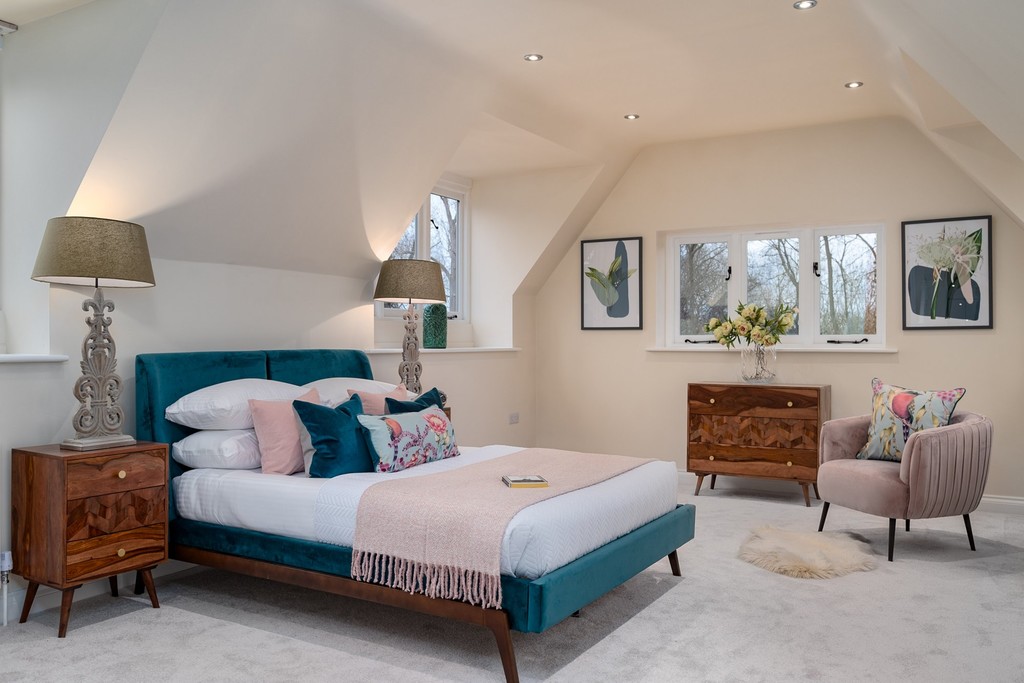 Staging Kerb Appeal
Buyers often indulge in a discreet 'drive by' before viewing so make sure your exterior landscape invites them to find out more. Mow front lawns, trim hedges, sweep or jet wash driveways, clean windows and make sure the approach to the house is clutter free. Fix any broken gutters, gates or fences and make sure your bins are discretely hidden away.
Be Objective
Once you have decided to sell, your home becomes a product. Ask for honest opinions from family and friends – ideally someone not particularly close to you who will give a truly honest account of what needs to be changed. Most homeowners are too emotionally connected to be objective about their home's contents. In the absence of a professional home stager, estate agents are usually good at offering advice around cosmetic improvement.
Show buyers your space, not your stuff.
In every room, implement a strategy of depersonalisation. Clear out every piece of non-essential décor and in particular, anything personal. Remove all nick nacks, photos and memorabilia – including anything framed and on the walls.  Remove excess furniture and furnishings. Consider how buyers might navigate and eventually use the space and clear natural pathways between rooms.
Consider some temporary storage away from the property to store surplus furnishings.
Get The Balance Right   
Once completely cleared, carefully choose select items to replace but choose only those items that enhance the look and even then, use them sparingly. If your walls look too bare after your purge, replace family pictures with low cost artwork or neutrally styled canvasses. Find the right balance between too sterile and too cluttered. Use Pinterest, magazine features or www.thehomestylingcompany.co.uk for inspiration.
Clean and Bright    

                             
Every inch of your home should be thoroughly cleaned before inviting viewings. Consider a professional cleaning company to perform a one off deep clean or at the very least invest in a steam clean of all carpets, window dressings and upholstery.
From the ceiling down, dust, clean and polish every surface and appliance until they gleam. Everywhere should feel and smell fresh so buyers are not put off by the impression of an unkempt home. If you are presenting a grubby home, buyers might wonder what else you might have neglected to fix or mend.
Maximise your natural light sources by opening curtains and blinds fully and open windows to air the house. Turn on all the lights in the house to make rooms appear brighter and bigger.
Paint and Paper    
Consider any areas where some minor decorative work would make a major difference. Painting chipped or faded woodwork such as doors, bannisters and skirting boards can be done inexpensively but the overall effect is of a smartly finished property.  Remove any outlandish or very distinctive decorative touches – a very bold feature wall or unusually coloured paint choice for example. Replace them with a soft grey or bright white to provide a blank canvass for buyers. Ensure each room looks inviting without the need to immediately decorate which might not be within buyers' budgets.  
Sorry….No Pets Allowed   

                  
Remove toys and pet accessories (and before photography or viewings, any sign of pets themselves inside the house). Ask a neighbour if they can watch your pet during a viewing, so you can stow away the dog bed or cat litter tray.
Kitchen Magic
Kitchens are always absolutely key to a viewing and should be immaculately presented. Buyers love lots of preparation space so clear countertops of appliances by putting items such as toasters, blenders or containers away out of sight to make the kitchen feel larger as a whole. Would a coat of fresh paint and new hardware like handles improve the look of your cabinetry for a very small investment?
Add a bunch of fresh flowers in a pretty vase for a welcoming touch and if there is a dining area such as a bar with stools or a table, then dress it with place settings to illustrate the flexible use of the space. We often use a colourful placemat or charger with white china on top for a chic, contemporary look.
Beautiful Bathrooms     
Make sure all your sanitaryware is gleaming and clean. Replacing old, tarnished taps and the grout between tiles will make a huge difference. Remove all mats, bins and personal toiletries. No loo brush or toilet rolls should be on show and make sure the loo seat is down.
Accessorize with a set of new, white towels and some luxurious toiletries but keep any other items to an absolute minimum to emphasize space.
Boutique Bedrooms  

                
Take your inspiration from stylish boutique hotels by creating a calm, peaceful space in each bedroom. Keep fuss and clutter to a minimum and invest in some large, plump pillows and crisp, white bed linen to make resting spaces feel inviting.
So that's our 'Must Know' staging tips for successful sales.
If you're inspired, we wish you the very best of success in staging to sell. If you are selling an empty property or don't have the time to devote to staging your home on your own, we'd be delighted to hear from you.
Give us a call or drop us an email and we'll be in touch to help you make sure your home achieves the best price in the shortest possible time.
Denise and Stephen Cable
The Home Styling Company
Multi Award Winning Home Staging Professionals
info@thehomestylingcompany.co.uk
www.thehomestylingcompany.co.uk
Tel: 07870 751108